The EHSAS Center organizes workshops which both supplement existing courses, and adopt a broader interdisciplinary approach to develop student skills in varied areas: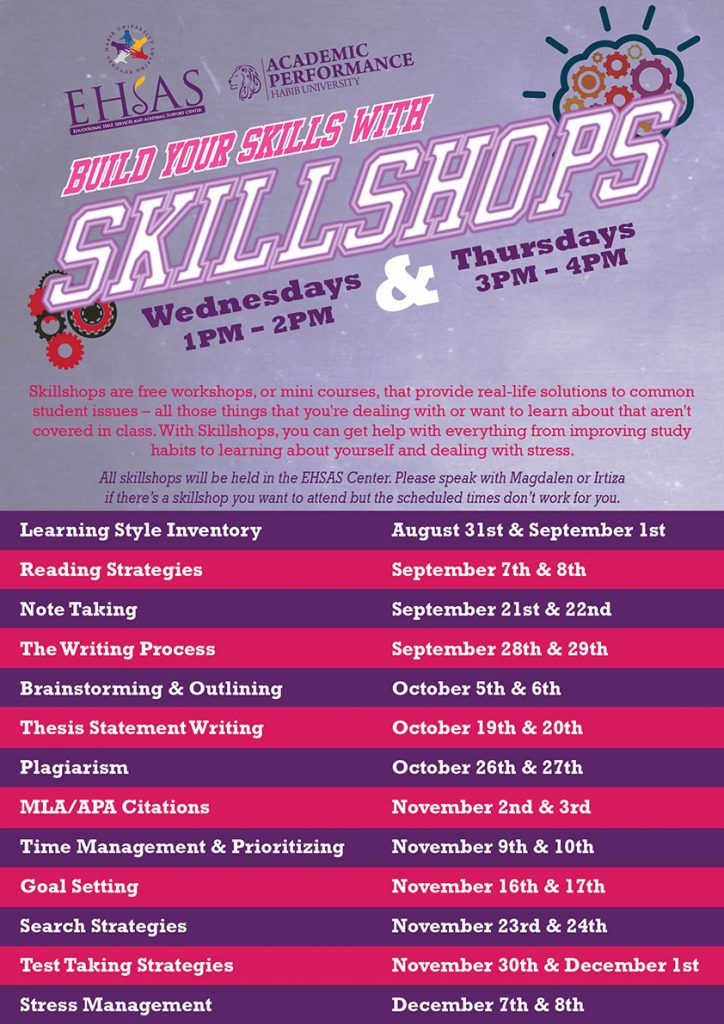 The following are examples of workshops which were held in Spring 2016:
Goal Setting
Through this interactive session, students learned to conceptualize goals as SMART: Specific, Measurable, Attainable, Relevant, and Time-bound. This approach can be especially beneficial to students struggling with multiple course-loads and overwhelmed by external pressures; breaking down aims into attainable components helped students strategize future accomplishments and gain confidence in their planning capabilities.
Stress Management
This workshop acknowledged how the combined elements of social interaction, academic pressure, and major life events can make university a stressful time. Students were taught to analyze their emotions in a productive manner, enabling them to identify core 'stressors' – or stress-inducing factors – in their individual lives, before going on to discuss coping mechanisms and activities which can contribute to positive attitudes and mental health.
True Colors
This interactive session focused on building self-awareness: encouraging students to examine their attitudes and behaviors with a light-hearted group 'personality test' (complete with the disclaimer that no personality test should be viewed as definitive!). By identifying how different people have different approaches to team-work and leadership, students learned how to work alongside diverse peers, as well as how to further develop their own strengths.
The following are examples of workshops which were held in Spring 2015:
Adobe Photoshop & Illustrator Workshop Series
Students learned the basic tools of these softwares: creating logos and posters while learning how to navigate and handle the programs. This was not only helpful for Communication Studies and Design students, but also greatly benefitted those with different majors, who had an interest in learning the basics of design and poster-making.
Citations: How to Cite
Citations are essential in academic papers, yet students often find them tricky and daunting. EHSAS regularly organizes workshops on citations in order to demystify the process of 'referencing'. The workshops allow students to learn, or re-learn, how to cite things easily, and help students understand the importance of citing correctly.
Time Management
The independent study and personal drive required to excel at university often takes students by surprise. This workshop helped students tackle this problem head on: helping them create individualized weekly schedules which included classes, study time, and other activities. Students learned strategies to prioritize and manage their time according to their stated goals.
Urdu Typing
Urdu typing workshops were organized for students who wanted to learn Urdu typing. This workshop particularly helped students who took Jahan-e-Urdu, as well as appealing to a broader, interested student base.
How to Avoid Plagiarism
EHSAS organized workshops which helped students to understand what plagiarism is, possible consequences of it, and how to avoid accidentally plagiarizing, through writing and citing strategies.
Researching: The Basics
Undergraduate research at Habib University engages students in their learning experiences, and develops their independence of thought, and critical thinking. EHSAS organized research workshops to help students learn the basics of effective research and how to explore and utilize library resources for focused research.
Why Workshops?
Students apply their minds to learn outside of their specific subjects
Develop interests, regardless of module
Learn vital soft skills that help students in academic and professional pursuits
Engage in lively discussion and learn in focused group sessions
Develop communication skills and confidence