The provost is the chief academic officer of the University. He provides academic leadership to both the schools and oversees student affairs.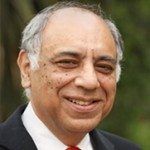 The position is currently held by Dr. Anjum Altaf, who holds a Ph.D. in Engineering-Economic Systems from Stanford University. He received a master's degree in Economics from Stanford University, and a master's degree in Electrical Engineering from Oregon State University.
Prior to joining Habib University, Dr. Altaf served as dean of the School of Humanities and Social Sciences at the Lahore University of Management Sciences. He has also been associated with the Applied Economics Research Centre at the University of Karachi; the Department of City and Regional Planning; the Department of Environmental Sciences and Engineering at the University of North Carolina-Chapel Hill; and with the East Asia and Pacific Region of the World Bank in Washington, DC. He moderates The South Asian Idea Weblog, a learning resource for college students in South Asia. He brings with him a distinguished record of scholarship, teaching and administrative leadership to his new role.
As Provost, Dr. Altaf will steer the academic vision of Habib University and manage all aspects of academic and research programs in consultation with the Deans. His responsibilities include: strategic planning, formulating and implementing scholarly and educational programs across the university, leading its academic accreditation, generating support for faculty research, and integrating academic life and student life. He will help foster positive and productive relationships between the University and its various constituencies, and build support for the institution nationally and internationally.